I was given an instamatic camera for my 10th birthday and it was my pride and joy. I particularly loved the noisy click as the shutter opened and the satisfying sound it made when you wound the film on ready for the next shot. But in those days film was used in every camera and both buying the film and developing the pictures used up my meagre pocket money, so I had to give significant thought to the shots I took or didn't take.
Later in my 20s when I started writing travel guides for Lonely Planet I got my first SLR camera and for several years took slides – which reproduced better for publication in books and magazines. I found a box of these when we moved recently and I surprised myself by how good some of the images were.
Everyone is a photographer nowadays. Digital cameras and smartphones have made photography accessible and affordable, and social media networks such as Facebook and Instagram have made it easy to share. But it's still a delight when you see a really great shot and even more rewarding when you've been the one to take it and it gets lots of "likes". Here are a few tips to help make that happen.
1. Fancy camera or smartphone?
A good DSLR camera can make a huge difference to the quality of your photos but you can still get great shots from point and shoot cameras and smartphones. (The technology in smartphones is so advanced now that you often can't pick a smartphone image over a DSLR unless you blow the shot up really large.) I have a variety of cameras but when I'm travelling and juggling kids and bags and documents and logisitics, I find it easiest to use a compact camera or my iPhone.
And if kids are taking some of the shots as well these will be easier for them to handle.
2. Composition
Keep your compositions clean and simple. Looking for eye-catching colours, light and reflections. Photographers often talk about the rule of thirds – and it's one of the most useful tips for any amateur snapper. Put simply this means you should place your horizon line either one-third or two-thirds from the bottom and place your subject one-third in from either side.
3. Let there be light
Sunrise and sunset (or early morning/late afternoon) are the best times to take photos. In the middle of the day the sun is high in the sky and casts harsh shadows and colours get washed out. Consider the position of the sun relative to your subject. If your subject is between you and the sun chances are they'll end up in silhouette. That said, shots of shadows can be interesting and fun.
4. Add some scale
A huge monument will look even more impressive if you can add a person to indicate the scale.
5. Tell a story
Don't just take photos of a statue in a museum, place your kids in the shot to show how they are engaging with the exhibit. It makes the shot more dynamic and memorable. Better still, give the camera to the kids, and get them to take the shots. It's fun to see things later from their perspective.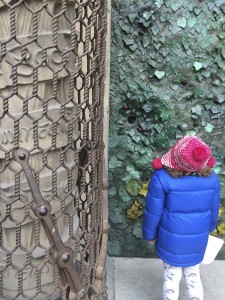 6. Be prepared
If you're using an automatic camera or phone, have it on the correct settings so that all you have to do when the magic travel moment arises is focus and shoot. If your phone has gone to sleep and locked with a password, chances are you'll miss the money shot – whether that's your kids doing something priceless or an elephant on that African safari.
If you do use a DSLR camera, make sure you know how to use all its functions and experiment with settings before you leave home, or you could find yourself unable to capture that perfect travel moment.
7. Preserve your memories
Make sure you've got enough memory on your phone or memory card.
It might mean you need to travel with multiple cards, and upload to cloud-based storage service such as iCloud or Dropbox (via your tablet or laptop) at the end of each day or whenever you have good fast internet. If you're taking a lot of photos consider travelling with a portable hard drive as well.
8. Make a photo book
We used to do slide shows and make photo albums. The modern day equivalent is the printed photo book. You can put them together fairly easily using clever templates.