Europe has some of the world's best museums with excellent educational programs to really help kids of all ages get engaged.
In this list of the best museum experiences for kids we've highlighted places with especially engaging family trails or tours. These are not necessarily dedicated children's museums – Europe has plenty of those and we'll cover them another time – but places that have something for everyone. This list is by no means exhaustive – we'd love to hear from you about other great museum experiences – but we reckon if you visit these museums chances are you'll want to leave before the kids do.
One of the world's oldest and finest museums. Even if you're not a museum aficionado you should visit the British Museum, it's a sight in itself, especially the Great Court which now encompasses the original, historic Reading Room of the British Library under a massive glass roof.
Judicious collecting and controversial plundering of empire and other nations has resulted in an incredible, extensive collection that includes iconic treasures such as the Rosetta Stone, the controversial Parthenon Marbles (the Brits removed them from Athens in 1806, the Greeks want them back), plenty of Egyptian mummies and the remains of the 1st-century Lindow Man whose body was preserved in a peat bog until 1984.
There are terrific activity trails for kids to follow – Dancing with Shiva (a counting trail for 3-5 year olds) and Travelling in Time (Ancient Greece through the ages for 6-11 year olds) as well as backpack activity kits to borrow on themes such as African adventure, Become and Archaeologist and Egyptian Mummy.
Don't be surprised if you end up visiting more than once.
Founded in 1683, The Ashmolean was the first public museum in the UK and one of the oldest in the world, and has mummies from Ancient Egypt, classical sculpture from Greece and Rome; paintings by masters of European art such as Raphael, Rembrandt van Rijn, William Turner, and Vincent Van Gogh; and the greatest collection of Chinese art in the western world.
That all sounds appealing to adults rather than kids – but don't be deceived. There is a Family Activity Station which offers downloadable Family Museums Trails (and sketching materials) on a variety of themes: the Top 10; Anglo-Saxons; Ancient Egypt; Rabbit Hunt; and Dog Detective.
More manageable than the Louvre (which is vast and would take weeks to see in its entirety) the Musee d'Orsay is regarded above all as being the home of priceless, iconic Impressionist and Post-Impressionist works, by artists such as Manet, Monet, Degas, Cezanne, van Gogh among many others.
It's housed in a former station, and has regular, interesting temporary exhibitions.
There is a dedicated audio guide in English for families, which gives access to nine themed tours of the collections for adult visitors accompanied by children aged 8 to 12 years. You can download it for your own tablet or hire a tablet while there. Each tour looks at the museum's iconic works from a specific angle (reading a portrait, travel, art, history, etc.) enabling both children and parents to explore the rich diversity of the collections. The application also provides practical information specifically for families.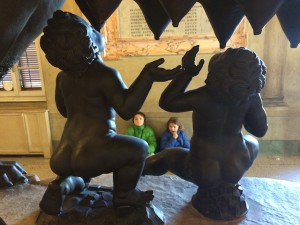 The world's oldest public gallery, the Capitoline Museums sits in three buildings on the Capitoline Hill. There's a fantastic audio guide especially produced for kids which leads you to all the highlights. The remnants of a colossal statue of Constantine – the hand, a foot, his head – in the courtyard of the Palazzo dei Conservatori provide great photo opportunities. There's also the original bronze statue of Romulus and Remus being suckled by a she-wolf – the kids will love that story which is basically about the foundation of Rome – and the portrait busts in the Palazzo Nuovo provide a who's who of ancient Rome. The kids won't look at everything in the collection but they will look.
The collection at this wonderful museum is vast but for young travellers at least it can be summed up in a single word: dinosaurs. A massive skeleton in the entrance hall is one of the museum's most prized exhibits. There's also an animatronic T-Rex among other dinosaur-themed displays.
The Life Galleries house Victorian-era specimens, while the Earth Galleries look at earthquakes and volcanoes and include a recreation of an earthquake in Japan. Download free audio guides before you visit to guide you through various pieces in the collection.
This small house, now a museum, introduces children to the sobering message of the Holocaust through the eyes of one of their own, a young Jewish girl trying to grow up in a land that was against her.
It's worth prepping for this visit before you go, and downloading one of the free apps that explain the Anne Frank story in detail.
Consider booking into the 30-minute Family Program session prior to your visit to the house (and book on line to avoid the queues). It gives kids (10 years and over) a solid introduction to the history of the museum, and the story of Anne Frank and her family, before visiting the house itself.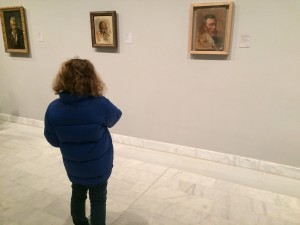 Children will love this compact museum, which is dedicated mainly to Picasso's early works, including some paintings done when he was in his early teens.
That a 14-year old could paint like Picasso did is extraordinary.
The audio guide is not dedicated to children but is succinct enough to be manageable and goes into detail on selected works, providing context to them and helping kids really look at the images.
This brilliantly curated maritime museum, the most visited museum in Scandinavia, is home to the Vasa, the world's only preserved 17th century ship, which sank on its maiden voyage in 1628. After languishing on the sea bed for 333 years it was recovered and restored. An explanatory film tells the story of the ship's construction, launch and loss, and there are free guided tours in English. It's a fabulous museum for families, with a well produced audio guide focusing on 15 parts of the collection.
This extraordinary museum is picking up gongs world-wide for its interactive displays and its success in engaging kids with fine art, the decorative arts, architecture and fashion. The WonderKamers department, designed for kids aged 10 to 18, uses technology to bring the visual arts to life through a computer game in which the visitor is at the centre. With electronic tablet in hand, kids explore 13 themed display areas, discovering a wonderful world in which they can turn themselves into haute couture models or learn to dance the Boogie Woogie from no less an expert than the great Mondrian himself.
The Tower is a must. The best way to get an overview of the Tower and its tales of intrigue, imprisonment, execution and torture is on a Yeomen Warder tour, run by the fantastically-attired "beefeaters" and free with entry ticket. Tours begin every 30 minutes at the main entrance and last about an hour (last tour 2.30pm). Note that the torture exhibition can be frightening to young children. The Crown Jewels are spectacular. Allow about two to three hours at the Tower.