For many families camping is synonymous with Easter and Easter is synonymous with camping. The weather is still good and it's fun to be outdoors. But much as your seven-year old may think they can live on chocolate Easter eggs and hot cross buns alone, having a few quick and simple recipes up your sleeve will make the whole experience much healthier and more flavourful.
So I asked my friend Katy Holder, food writer, stylist and keen camper to share some of her favourite recipes from her fabulous book – The Hungry Camper's Cookbook (Explore Australia). Katy has loved camping since she was a small girl and in this beautifully styled and photographed book she's combined her professional expertise with her passion. What Holder can't do with a camp oven probably isn't worth doing. The book includes chapters on make-at-home snacks, cook-ahead food, one-pot dishes, campfire breads – beer and pesto damper anyone? – and desserts, with fresh, simple and delicious recipes requiring minimal cooking equipment. There's also a section on campfire cooking for kids, and practical tips on how to pack an esky.
Neither Katy nor I could narrow it down to just one recipe so here are three of them.
Pesto lamb burgers
Nearly everyone loves a good burger and home (or camp!) made are best. These are so simple the kids can get involved too. When I make these burgers there is usually silence while everyone munches away happily. It's amazing what you can achieve which just a few ingredients.
Makes 4 large burgers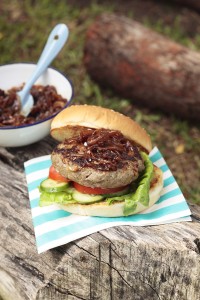 INGREDIENTS
800 g minced lamb
2 garlic cloves, crushed
2–3 tablespoons pesto
4–8 burger buns or soft rolls, to serve
crisp lettuce leaves, to serve
Slices of tomato, to serve
Slices of cucumber, to serve
METHOD
1 Put the lamb, garlic and pesto into a large bowl and season with salt and freshly ground black pepper. Use your hands to combine.
2 Divide the lamb mixture into 4 or 8 portions, depending on whether you would like to make large or small burgers, then shape into patties. The burgers can be prepared ahead and stored in the cool box if desired.
3 Cook the burgers on a barbecue flatplate or over the fire for about 6 minutes on each side for larger burgers, or 4–5 minutes on each side for smaller burgers.
4 To assemble the burgers, split the burger buns or rolls and toast them, cut side down, for 1–2 minutes to warm through.
5 Serve each burger inside a bun with as much lettuce, tomato and cucumber as desired.
TIP Don't forget the pesto.
Pork kebabs with flavoured mayonnaise
It's up to you how you flavour the mayonnaise, if you have fresh herbs use these, or finely chop a small red chill and add that, or add some lemon or mustard or try a combination! You will need 8 wooden or metal skewers.
Serves 4 (makes 8 kebabs)
INGREDIENTS
2 tablespoons hoisin sauce
2 tablespoons soy sauce
450–500 g pork fillet, cut into about 24 cubes
16 small brown mushrooms
2 small zucchini, cut into 1 cm slices
1 red capsicum, cut into 3 cm squares
olive or vegetable oil, for brushing
Large mixed salad, to serve
flat bread, pita bread or tortillas, to serve (optional)
Flavoured mayonnaise
120 g good-quality mayonnaise
1 tablespoon lemon juice
1 tablespoon finely chopped fresh herbs, such as parsley, coriander, tarragon or dill (optional)
1 tablespoon Dijon or wholegrain mustard
1 small red chilli, seeded (optional)
METHOD
1 If using wooden skewers, soak them in water for 20 minutes to prevent them from burning during cooking.
2 Combine the hoisin sauce and soy sauce in a medium-sized bowl and season with freshly ground black pepper. Add the pork and toss to coat. Cover and leave to marinate in the cool box for at least 1 hour if you have time; if not they are still delicious cooked straight away.
3 Meanwhile, make the flavoured mayonnaise. Combine the mayonnaise with your choice of ingredients in a small bowl, stir in 1 teaspoon of water and set aside. If you're not adding lemon juice add a couple more teaspoons of water.
4 Thread the pork onto the skewers, alternately with the vegetables. Pour any remaining marinade over the vegetables. Brush or drizzle with oil each kebab with oil.
5 Preheat a barbecue grill plate to medium and cook the kebabs for about 10 minutes, turning regularly, or until the pork is cooked.
6 Serve the kebabs accompanied by the flavoured mayonnaise and a mixed salad. If serving as a wrap, wrap the bread in foil and warm on the barbecue for about 5 minutes before serving.
TIP Don't forget the hoisin and soy sauces and your choice of flavourings for the mayonnaise. And don't forget the skewers!
Chargrilled lamb with haloumi, olives and lemon
Drawing on the flavours of Greece, this salad is always popular. Cooking the lamb over the fire gives it a delicious smoky flavour. One lemon should provide enough juice for the lamb and the dressing.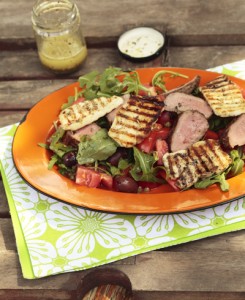 INGREDIENTS
1 tablespoon olive oil
2 garlic cloves, crushed
1 teaspoon dried oregano
1 tablespoon lemon juice
600 g lamb fillet
3 firm, ripe tomatoes, roughly chopped
16 pitted kalamata olives
2 tablespoons capers, roughly chopped (optional)
1 large handful of rocket or other salad leaves leaves
250 g haloumi cheese, cut into 1 cm thick slices widthwise
crusty bread, to serve
Lemon and herb Dressing
2 tablespoons olive oil
1 tablespoons lemon juice
1 teaspoon dried oregano
METHOD
1 Combine the olive oil, garlic, oregano and lemon juice in a shallow container. Season with salt and freshly ground black pepper. Add the lamb and turn to coat in the marinade. Set aside for 30 minutes in a cool box to marinate. This isn't absolutely vital but it will definitely enhance the flavor of the meat.
2 Remove the lamb from the marinade (reserving the marinade) and pat the lamb dry with paper towel.
3 Cook the lamb on a barbecue grill plate or on a rack over a fire for about 2 minutes on each side, until seared on the outside and medium–rare on the inside, or cooked to yoru liking. The exact timing will depend on the thickness of the meat. Set aside for 5 minutes to rest, then cut the lamb into thin slices.
4 Combine the lamb, tomato, olives, capers and rocket, if using. Combine the dressing ingredients in a separate small bowl and drizzle over the lamb, tossing to combine.
5 Dunk both sides of the haloumi into the reserved marinade. Cook for 1–2 minutes on each side until golden.
6 Top the salad with the haloumi and serve soon after cooking, otherwise the haloumi will become rubbery. Serve with crusty bread for mopping up all the delicious juices.
TIP Don't forget to pack the dried oregano and a loaf of crusty bread.
Hungry Camper's Cookbook by Katy Holder is published by Explore Publishing Hardie Grant.
For more about Katy Holder, see her website www.katyholder.com.