THE RISE AND RISE OF MULTI-GENERATIONAL TRAVEL
Multi generational travel or family reunion holidays are a huge and growing sector of the travel market.
Families are separated by geography more than ever before. People are moving away from the places they grew up to study or work. Often they'll move again, perhaps for a new job or when they partner or marry. Fewer and fewer of us enjoy the traditional grandparent-grandchild relationship that proximity provides, with weekly visits and the odd spot of babysitting. Gathering everyone together on a family holiday provides precious time together.
THE BENEFITS OF MULTI-GENERATIONAL HOLIDAYS
Holidays provide a chance for families to have quality time together. Grandparents get to bond with their grandchildren and learn what makes them tick. They also get to have uninterrupted time with their own offspring and their partners away from the busyness of daily life. Often multi-generational holidays can introduce young children to experiences their parents had as kids, such as a summer beachside holiday in a special place, and in doing so it perpetuates a family legacy and creates new memories.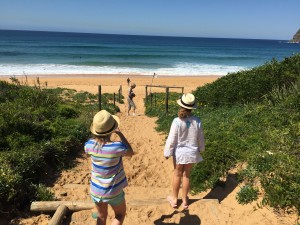 WHERE TO GO WHEN TRAVELLING WITH GRANDPARENTS
The destination you choose will depend on personal taste as well as your budget and the physical health and abilities of all involved. But if I was naming four things I'd say: city breaks, resort-based villa holidays, simple beach holidays within Australia which don't involve too much travel, and for something a little more exotic, an African safari.
City breaks
Whether you're visiting an historic European centre or a bustling Asian metropolis, cities have something for everyone. Getting around (on foot, public transport or in taxis) is usually relatively easy. You can mix the itinerary up with culture, food, hands-on activities, and break up into smaller groups to explore special-interest museums or go shopping.  The trick here is to find the right accommodation and allow everyone to break out of the group to do what they want.
Resort based villa holidays
Places like Phuket, Vietnam and Bali are well set up for villa holidays with spacious accommodation, private pools and plenty of services. In many cases you can have your own indulgent self-contained accommodation with a private chef and other staff, as well as access to the resort's facilities (such as gyms, spas, restaurants and activities). And it doesn't always cost the earth.
Beach holidays
Bucket and spades holidays are perennially popular, especially with young children. If the older family members don't like to laze on beaches or sunlounges, make sure there are other activities, such as golf, tennis or fishing, nearby. If you have teenagers in the group, check that there are activities that appeal to them too, such as fishing, sailing, surfing, waterskiing or diving. Options in Australia are endless, and we're lucky to have some of the best beaches in the world, and sites such as Stayz and AirBNB make it really easy to find good self-contained accommodation.
African safari
An African safari could be the multi-generational trip of a lifetime. Safari holidays are best for kids aged about eight and over, when they can follow instructions, sit relatively still and don't mind getting up super early for game drives, although there are plenty of camps that cater to younger children with dedicated activities, specialized accommodation and child-minding services if they kids are too young to head out in the 4WD.
BEFORE YOU GO – PLANNING MAKES PERFECT
Be very clear before you start planning the trip what everyone expects to get out of it. Also, make sure everyone knows how much physical exertion an older parent/grandparent can manage and if there are any accessibility issues to be aware of.
Choose accommodation carefully – places with too many stairs won't suit either the elderly (or anyone with dodgy knees or hips) or young families with babies in prams. If there are health issues to be aware of, make sure you bring adequate medications, doctor's letters if required, and choose a destination where you know medical attention is not too difficult to access.
TOP TIPS FOR A HARMONIOUS MULTI-GENERATIONAL HOLIDAY
Don't skimp on accommodation. Everyone needs their own space. Being on top of each other the entire time is a recipe for disaster. Kids can get noisy and have a tendency to rise early, and it's great for all if there's a separate space where they can play their games or perhaps watch movies. Look for beach houses or villa complexes in resorts that have enough bedrooms and bathrooms and separate living spaces.
Do your research. Make sure there's something for everyone in the destination you choose. If you're having a city-based holiday work out the sightseeing highlights before you get there and a sensible plan for visiting them.
Be flexible, and allow plenty of downtime. Small children will need sleeps and time just to play in a park. Oldies will need quiet time for some R&R.
Nuclear family time. Young kids can get overwhelmed by the activity and stimulus from increased grandparent or cousin action. Make sure you have some quiet nuclear family time as well.
Book a babysitter. While the grandparents might be happy to babysit their young grandchildren once or twice in a week, the parents of those small children should not expect it to happen every night. Book a babysitter so you can have some valuable adult and older adult time too.