Natural High – Yosemite National Park
Everything you need to know about this extraordinary US national park. A guest post by Ali Donaldson.
When my 10-year-old son asked me if deer attacked – just seconds before the wild animal licked my husband's knee – I admit I was having an Oh My Gawd moment. Even the locals around us were. I know because they were all screeching "Oh My Gawd" as the doe came closer and closer, until tongue outstretched, it gave him a big lollypop lick and then we all – deer and humans – savoured the moment together.
It became the unofficial soundtrack of our family trip to Yosemite National Park. A natural playground where the history is rich, the thrills and delights are free and they really do appeal to all ages. Forget Disneyland, because the wonderment this incredible place delivers surpasses anything man-made.
Here's our quick tick box:
* Cooling off under waterfalls.
* Sharing meadows at dusk with deer and squirrels.
* Wandering among the world's biggest single living beings – the Giant Sequoias.
* Taking in a nightly ranger talk under a star-blown sky.
While my husband and I absorbed, our two boys, aged 8 and 10, engaged.
Like all the other kids sitting up late, their hands shot up every time the ranger asked a question. They stayed back afterward, wanting to know more about the rock climbers who slept on makeshift beds, thousands of feet up, strapped to the side of El Capitan's sheer granite face. They both quickly signed up to become Junior Rangers.
This is a great little program. Instead of bugging us to go on electronics, our boys immersed themselves in completing a 4-page Junior Ranger course. Over dinner they chatted away comparing answers, drawing pictures of the bear and her two cubs we were lucky enough to see that day and reading about what their next day's adventure might include. The Junior Ranger badges they earned may have been made from cheap plywood but they are their all-time favourite holiday souvenirs.
You can't go wrong with accommodation in Yosemite. From camping in tents, enjoying the most comfortable loft beds in log cabins, to sleeping in the same rooms that John F Kennedy or Queen Elizabeth II did at the world famous The Ahwahnee, recently renamed The Majestic Yosemite Hotel. Built in 1927, it is a destination in itself and even if you don't stay overnight, a meal in the spectacular dining room is a must, followed by some lounging. I challenge you to find a bigger fire place.
First on our must do list: the Mariposa Grove. Here Sequoias which began growing 2,000 years ago dwarf other massive pine varieties around them. One called Grizzly Giant boasts a branch thicker than any other tree trunk in the forest. And it's while you slow down to marvel at nature's biggest and oldest, that the wildlife starts coming to you. Within half an hour we had spied our first deer. Stopped in our tracks it slowly came closer. Then we noticed seven others sitting quietly in the woods. They were soon comfortable enough with us to begin chasing each other around. The Grove is undergoing a big restoration and will re-open in the Spring of 2017.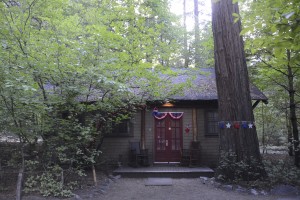 The next day a ranger warned us to stick together while walking because a mountain lion had been seen in the area. The adrenalin was pumping. He then gave us a great tip on a safer trek to a nearby "pool and slide." A short walk and we could hear the river, which soon led to a footbridge crossing a pale blue watering hole. The best way in was sliding down a gentle rockface smoothed by millennia. Not quite what the boys were expecting when they heard pool and slide. It was better!
In Yosemite Valley sits Curry Village. This is an institution where you can choose from tents, serviced log cabins, or loft style rooms. It had the atmospherics of a big, surprisingly clean American summer holiday camp. Squirrels are everywhere. So too (according to the constant warnings) are bear. We saw four all up, including two cubs, roaming in the forest. They made the Ranger talk that night on the origins of Yosemite according to the Native American Indians particularly poignant.
Top Ten Yosemite Summer Hits
Glide down the Merced River on a giant green inflatable raft. The rafting doesn't get much easier, or picturesque. It takes around two hours (longer if you decide to picnic on a sandy beach) and a courtesy bus brings you back to the Village.
Take a photography class (some free). Learn how best to capture sunset on Half Dome or meadow flowers. Sign up at the Ansell Adams Gallery.
Full Moon Bike Ride. Only once a month, a leisurely two-hour peddle under moonlight along paved bike paths in Yosemite Valley. Bike hire is cheap and easy.
Go climb that mountain! Yosemite Mountaineering School offers hiking and rock climbing for ALL experience levels.
Let a horse or mule take you for a ride. 2 hours to overnight rides begin at the stables near North Pines Campground.
Get starstruck. Explore the night skies for one hour every night with Starry Skies Over Yosemite.
Stroll with a Ranger. Let the experts enlighten you on bears, Yosemite Indians, geology, waterfalls and more.
Paint your own masterpiece. The Yosemite Art Centre offers an array of seasonal workshops for children and adults, $10 for three hours with a local artist. "Catch Yosemite's Light in Watercolour" and "Sierra Nevada Blues" among the palettes offered.
Meet the wildlife. Just sit and see what comes to you. The Meadows always offer up surprises around dusk.
Wee Wild Ones – stories and activities for kids under six at Curry Village Amphitheatre and Yosemite Lodge at The Falls Amphitheatre.
Junior Ranger campfire. Free nightly education – and they'll love it!
Ali Donaldson is a Sydney-based journalist and media advisor and mother of two.