Cruising Sydney's Hawkesbury River by houseboat
The gentle rocking of the boat is meditative. The only sounds are of nature itself — birds, frogs, the occasional splash of a jumping fish. We're on the fringe of Australia's largest city, amid a dramatic landscape that hasn't changed for thousands of years, and on our Hawkesbury River houseboat we've got this untouched wonderland all to ourselves.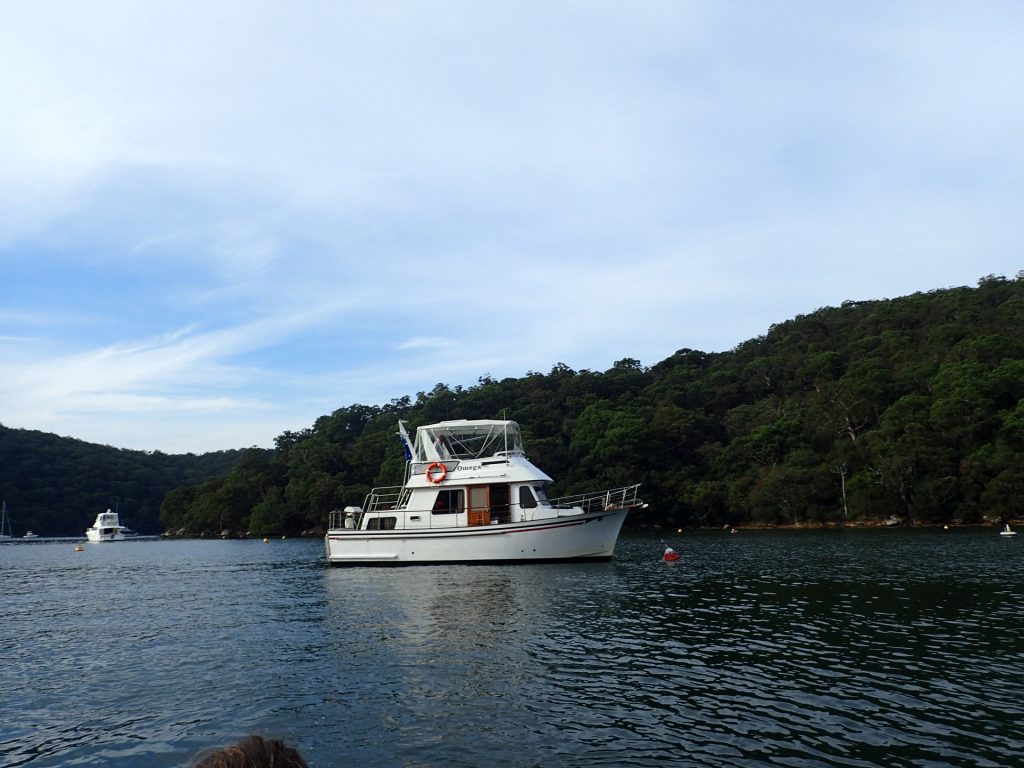 Our journey on Omega, a Clipper 34, is a trip down multiple memory lanes. I first took a houseboat holiday in this part of the world with my father and one of my sisters when I was about 14. Decades later, my husband, Simon, and I had our honeymoon on a boat, with our 10-month-old son Archie, who'd just started to crawl. At the time I was nervous about the baby-and-boat thing but I was so entranced by the tranquillity I wanted to extend our stay. So when the opportunity arises to connect the memory strands and gather my father, his partner Di, my husband and our kids, now 11 and nine, it seems serendipitous to do it all again.
We join Omega at its berth in Newport, on the northern beaches peninsula, about an hour's drive from the Sydney CBD. Boating in this part of the world is pretty user-friendly; you don't need a licence to take command of a vessel like Omega (it doesn't go fast enough) and the navigation charts are well marked with hazards, safe anchorages and public moorings. We don't even need to learn how to work the radio as there's mobile phone coverage pretty much everywhere. Nonetheless I'm relieved Simon, who's a bit of an old salt, is wearing the skipper's cap.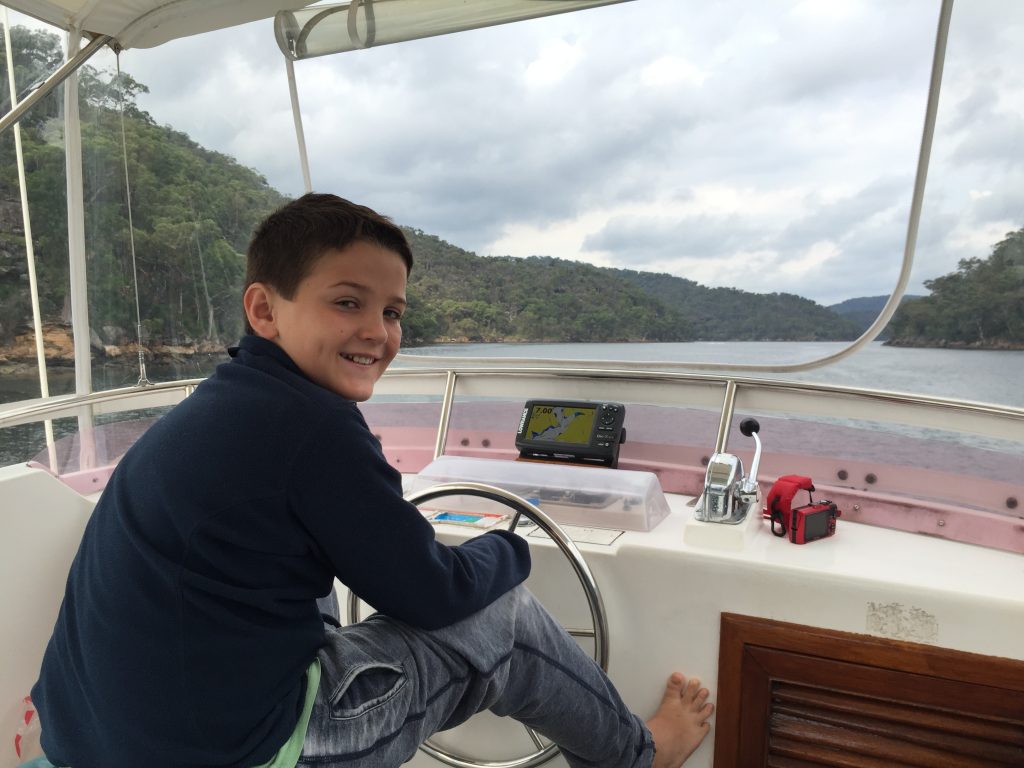 After a safety briefing and a short lesson on how to steer, moor and anchor, we're piloted out of the marina and left to our own devices, motoring across Pittwater, passing Scotland Island, Great Mackerel Beach and Barrenjoey Lighthouse before rounding West Head into the Hawkesbury River proper. We settle on the flybridge with grazing platters of bread and dips, wine and drinks. If we head northwest we'll follow the Hawkesbury towards Brooklyn but we maintain our course to the southwest, entering Cowan Creek.
This beautiful waterway is peppered with tiny inlets and beaches, most of which are accessible only by boat. Our first stop is at Refuge Bay, where we pile into the dinghy and row to shore. Behind the small, sandy beach a chilly waterfall powers down and the kids squeal as they stand beneath. A popular mooring spot, this sheltered inlet played a significant role in Australia's wartime history, honoured by a plaque attached to a boulder on the beach. It was here that Z Special Unit commandos lived and trained for months before sailing to Singapore in September 1943 on the MV Krait for Operation Jaywick, which destroyed seven enemy ships and was considered one of the most daring seaborne raids in military history.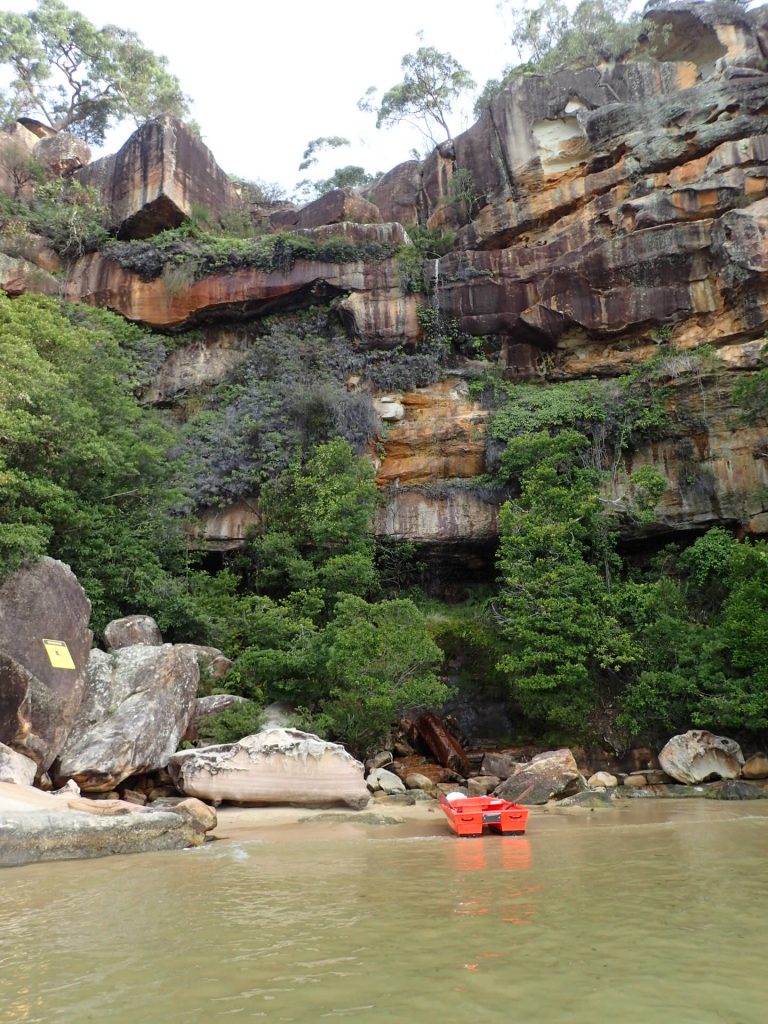 Further into Cowan Creek and its tributaries, the scenery is even more stunning. Heavily wooded, towering sandstone cliffs plunge steeply into the water's inky depths. We decide to spend the night at Jerusalem Bay, where we hear there is good fishing. The public moorings are taken so we drop anchor; boating novices are advised to stick to moorings but old salt Simon sorts us out.
Pulling out the rods, we create the quintessential multi-generational family moment quite by accident when my father, husband, son and daughter stand quietly together fishing, hauling in a respectable mini-catch of snapper, leatherjacket and whiting. As the sun sets, I prepare dinner in the galley, quietly congratulating myself that we only have to reheat a casserole and cook couscous. Later we help ourselves to the deck of cards and dominoes on board. Omega is extremely well-maintained and equipped. In addition to the central galley-lounge space on the main deck, there are cabins fore and aft, each with its own bathroom (or "head" in nautical speak), a small fridge, ice boxes, plenty of storage, walk-around decks and a gas barbecue at the stern.
There are USB plugs to connect smartphones to the speaker system and a television with DVD player. The website claims it sleeps eight but for even the closest of families that would be a squash. We assign the aft cabin, which we dub the Stateroom, to Dad and Di (it's meant to sleep four, which would be uber-cosy); reserving the bow cabin and its V-shaped bunks for the kids, with Simon and me taking the berth made by lowering the dining table. When we eventually set up our "double" bed we realise that we have no hope of fitting comfortably in the space, and for the sake of marital accord we cajole our daughter, Lulu, to share the space with me instead. She sleeps like the proverbial baby while I doze fitfully, occasionally waking to check the anchor is holding fast.
A cup of tea at dawn proves restorative as the first rays of sun hit the sandstone cliffs, turning the rocks a rich, shimmering gold. Pulling up anchor, we meander as far as Bobbin Head, almost getting stuck on a sandbank, before turning back towards Smith Creek where we take the dinghy into shore and the kids have fun on the stand-up paddleboard.
We've booked lunch at Pilu at Akuna Bay, a Sundays-only pop-up run by the people behind the award-wining Pilu at Freshwater. It's located at the marina at the end of Coal and Candle Creek and the four-course set menu is like a shared feast in an Italian home, and we're fed to bursting with delicious food, including malloreddus pasta, a Sardinian specialty with a sublime, tomato and pork ragu, and the best beef fillet I've eaten in years. But it's bucketing down as we reboard Omega and continues to rain all night as a southerly moves in. We literally batten down the hatches and motor through it, wanting to make it to the higher reaches of the Hawkesbury, past Dangar Island and under the Mooney Mooney Bridge, to a sheltered spot close to Peats Bight.
It's a little clearer by Monday morning when we drop Simon at Brooklyn wharf to catch a train to his city office. I'm somewhat nervous in my new role as skipper, but first mate Archie, who's getting handy with the boathook, helps out. There's another storm brewing so we head back towards Pittwater, stopping briefly at The Basin, where there are dozens of moorings and a popular campsite bordered by a sandy beach. There's a moment of minor panic while the kids are messing about with the paddleboard as I notice, in the distance, our dinghy floating away. I'm not pointing fingers but my Dad needs to practise his knots.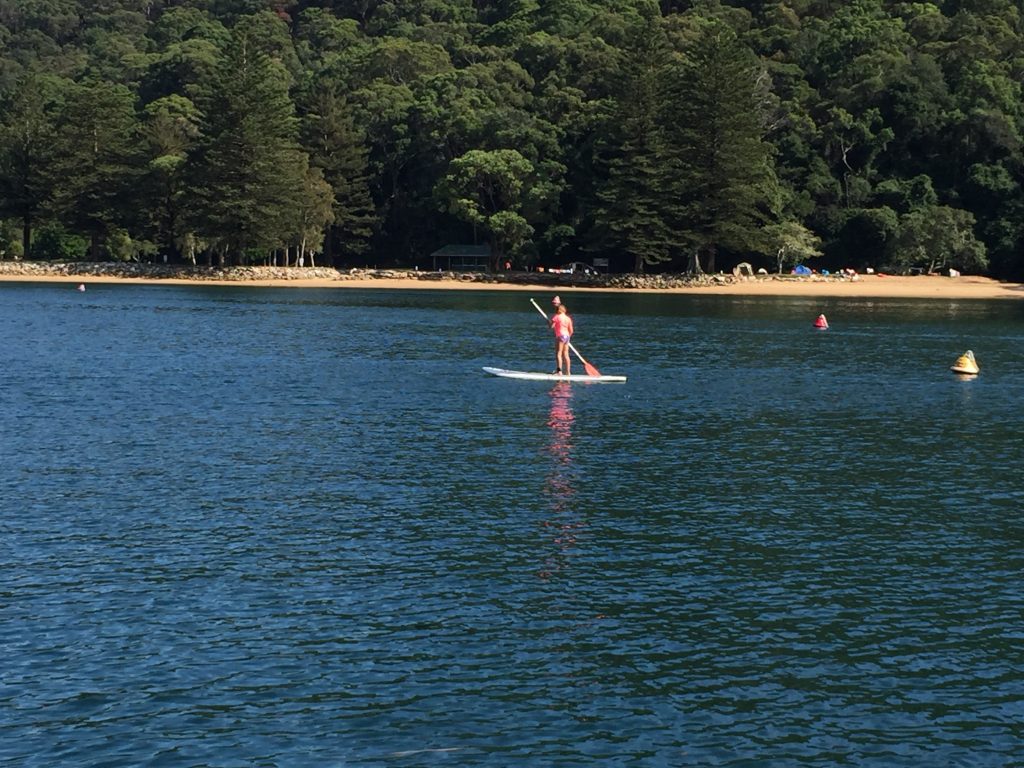 We beat the change and return to port safely, dinghy attached, relaxed and revitalised. We haven't travelled far, but we have experienced the famous Hawkesbury River's topography, as untouched as it has been for millennia and which can only be properly explored by boat.
Omega is a Flybridge Clipper 34. Three-day weekend charters from $1260. More:omegaclipper34.com.au. Church Point Charter is at Newport. More:churchpointcharter.com.au.