Cape Town and Ngala Private Game Reserve, 9 days
The trip
Often cited as one of the world's most beautiful cities, Cape Town is rich in history and culture and spoilt by the spectacular nature of its surrounding environment.
You'll spend four days in Cape Town, during which you'll take the cable car to the top of Table Mountain, visit Robben Island, where Nelson Mandela was imprisoned, wander around the cosmopolitan waterfront and sample plenty of Cape Malay food. You'll explore the winelands by bicycle, and do a full day tour around the Cape Peninsula, including Kirstenbosch Botanical Gardens, Clifton, Simon Town and the penguin colony at Boulders Beach.
As engaging as Cape Town is, however, it's the safari experience offered in this trip – four nights at &Beyond Ngala Safari Lodge – that will create memories that last a lifetime. Ngala Private Game Reserve is part of the 53,000 hectare Timbavati Private Nature Reserve, adjacent to the famous Kruger National Park. This is one of the richest and most diverse wildlife re­gions on the entire African continent, home to a plethora of wildlife, including more than 40 mammal species and 360 bird species. And one of the best places to spot the Big Five: lion, elephant, buffalo, leopard and rhinoceros.
The experience
This trip is a perfect blend of the vibrant coastal city of Cape Town and the magic of the African bush.
&Beyond offers families one of Africa's best safari experiences blending cultural interaction with effortless luxury. Families have their own two-bedroom suites and a dedicated safari vehicle so they can move at their own pace. In addition the acclaimed WildChild program, tailored to the ages and interests of the kids, enhances the safari experience.
The highlights
Table Mountain, Robben Island, the winelands in Cape Town and the spectacular Cape Peninsula environment; and the quintessential safari experience at Ngala.
Ideal for?
Kids of any age (see WildChild details below), especially tweens and teens and nature lovers.
Cool for kids
&Beyond's Wildchild program, which encourages interaction between the child and their ranger or guide, who helps them unravel the mysteries of the African bush and introduces them to local customs and traditions. (Younger children who won't cope with game drives are provided with specific lodge-based activities.) Each evening kids receive their "assignment" for the following day. Expeditions may involve tracking and fishing, making traditional bows and arrows, beading, crafting and painting, as well as fun in the lodge garden or kitchen.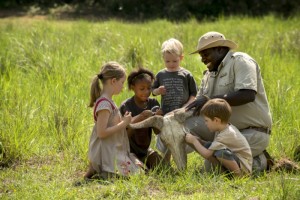 The family will love
Exploring Cape Town. The bicycle tour of the Stellenbosch wineries with wine tasting for grown ups and grape juice tastings for kids. And slowing down at Ngala, allowing time for everyone to reconnect.
Need to know
9 days from $4672 per person for a family of four ($18,688), starting in Cape Town and ending in Johannesburg, including all internal flights. Four nights accommodation in a two-bedroom self contained apartment at the V&A Waterfront in Cape Town, and four nights in a two-bedroom family suite at Ngala Safari Lodge (with all meals and house drinks included).
More information
Contact us if you'd like a personalised quote for this or any other itinerary.
Notes: All prices are in Australian dollars unless stated otherwise and indicative only. Prices will vary according to time of travel, size of group, inclusions and exchange rate fluctuations.