Lording it up on Lord Howe Island
By Sally Webb
I'm nervous as we make our final approach to Lord Howe Island. I've never found flying in small aircraft a particularly pleasant experience, but contrary to expectations it's not because the fierce winds are buffeting our Dash 8 turbo prop.
No, I'm nervous because I'm about to do something I've never done before: check into a guesthouse for a whole week where I'll be beholden to their cooking, three meals a day. What happens if the food is bad?
It takes about five minutes at Pinetrees, the oldest and most famous of Lord Howe Island accommodation, to realise we're in safe hands.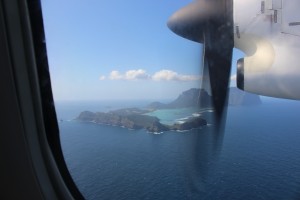 "We know you've had an early start," says host Luke Hanson as he's checking us in on the shady verandah of this sprawling guesthouse which has been operating since 1895. "So we've just whipped up some egg and bacon rolls to keep you going till lunch." They're delicious, and a taste of the thoughtful, seemingly effortless, hospitality that becomes the hallmark of our stay.
We've come to Lord Howe Island for a school holiday family escape. With its reputation as an unspoiled natural environment, a unique haven for birdlife and an underwater world that rivals the Great Barrier Reef, it's long been on my family travel bucket list.
Within hours of our arrival we're hand-feeding mullet and kingfish in the shallows at Ned's Beach. By day two we've spotted massive green turtles, including one known as The General and thought to be 100 years old, from a glass-bottomed boat in the lagoon. By the end of the week we've snorkelled above spectacular coral – the island, situated on the southernmost coral reef in the world, has a unique combination of tropical, subtropical and temperate marine life – and spotted manta rays and Galapagos sharks as well as a mass of vibrantly coloured fish.
We're immediately struck by the plethora of birdlife. Pairs of white terns are everywhere, looking for nesting sights in the boughs of the island's prolific pines. With its geographic location and absence of predators such as snakes, Lord Howe has long been an important site on the migratory route for birds including masked boobies and sooty terns. Even the Lord Howe Island woodhen is now a common sight, brought back from the brink of extinction by local conservation efforts. These flightless birds are almost tame; the kids discover they are attracted to the sound of clapping.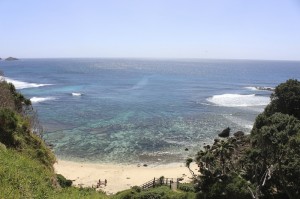 Our eight-year-old son Archie comes over all David Attenborough on us at North Bay during a turtle and nature tour when we come ashore on an isolated beach literally covered with sooty terns. Reviewing the day's shots later on our waterproof camera we discover a video he's taken of a mating pair, complete with full commentary of the action.
From the moment you touch down at Lord Howe's white-picket fenced airport, you realise you've come to a very special place.
It's simple and timeless and a reminder of how life used to be. Shoes are entirely optional, and most islanders – particularly the children – don't bother. No one locks anything; we don't even have a key to our room at Pinetrees.
In these days of hyper security and distrust it's the only place I know of where the honesty system is alive and well. No one bothers to lock up their bike. You can leave a backpack or fishing rod on the beach and it'll still be there – tides permitting – when you return, even if it's hours or days later. We borrow snorkelling gear at Ned's Beach but have no money for the honesty box at the time, but we make sure to return before the end of the week to repay the debt.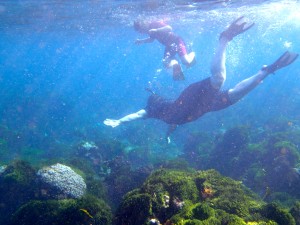 Pinetrees epitomises the special nature of the island. It's far from slick or modern, and some would describe the place as just a bit daggy. But that's exactly what appeals to us; it's a dress down, forget the make-up and relax type of place. The old-fashioned weatherboard pavilion, used for dining and gathering, has a sense of history about it, and the rooms and cottages dotted among the lush gardens and namesake pines are simple but comfortable. What is remarkable about Pinetrees, however, is the feeling that staying there imparts. While you are a guest, and well looked after, the true intention is to make you feel at home. Hanson and his wife Dani Rourke, the sixth generation of the family that established Pinetrees, pitch it just right.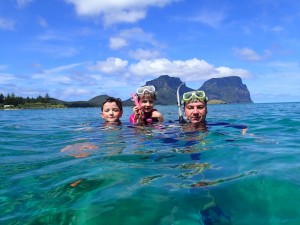 There are a couple of fancy resorts on the island, including the gorgeous Capella Lodge, tucked beneath imposing Mount Gower, which has one of the island's most breathtaking views. But although their thread count might be higher, the furniture bespoke, and the cocktail list fancier than Pinetrees, essentially everyone comes to Lord Howe for the same reason: to disconnect from the world and reconnect with each other. There's no mobile phone coverage at all, and very dodgy internet connections. And it's blissful.
Our week is filled with simple pleasures; swimming, snorkelling, walking and cycling everywhere. Bicycles are the preferred mode of transport on the island, and as the week progresses we watch our six-year-old daughter Lulu gain confidence on two wheels. She'd only ditched her training wheels on her tiny bike at home a few months previously, and a week on Lord Howe takes her to an entirely different level.
The September water temperature is a few degrees below perfect and the wetsuits we've brought for the kids come in handy (although tour operators supply them for boat excursions anyway).
Lulu catches her very first fish off the jetty and Archie bags enough garfish for a whole meal.
In the school holidays Pinetrees puts on its famous kids' dinners, where the younger guests pile around long tables on the shady verandah to tuck into delicious fare. My children are unusually struck by a case of the shys on our first night and I have to beg them to partake – we've been up since 4.30am to catch our flight and they really need an early night. By night two when I tell them they can eat with us, they refuse. Kids dinner – which twice (for pizza and sushi) they make themselves – is one of the highlights of their holiday.
As far as the food goes, we've come on the right week. Two or three times a year Pinetrees hosts its Food and Wine Weeks, inviting guest chefs to take up residence. Chef and television identity Peter Kuruvita is the star act during our stay, holding several intimate masterclasses in the Pinetrees kitchen, preparing a spectacular five-course dinner, as well as a Sri Lankan curry lunch.
Hanson is passionate about food and wine, and runs wine tastings every evening.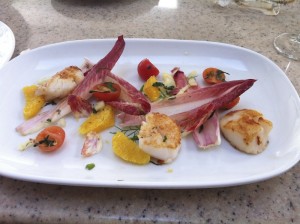 However, it's the regular fare at Pinetrees that really impresses: great breakfasts (three different cooked options each day), delicious afternoon teas, excellent dinners. It's not fancy food, nor fine dining in any particular sense, but food you want to eat, day-in day-out. Monday is fish and chips night, with a superb sushi and sashimi buffet to start; there's usually a steak night as well. It's a bit like being at home, but better, as you don't have to cook for yourself.
The picnic lunches are our highlight. Barbecues are dotted around the island, well-stocked with firewood. The Pinetrees' daily ritual is to nominate which of these picturesque spots you want your picnic Esky delivered to and whether you fancy fish or meat. . The hardest decision to make is which wine to drink with it.
Archie's garfish reappear for barbecue lunch on our penultimate day, cleaned and ready for the grill. We sandwich them in slices of buttered white bread, with a dollop of house-made tartare sauce and a squeeze of lemon.
We're in heaven. And I needn't have worried about the food.
Details: lordhoweisland.info; pinetrees.com.au
First published in The Sun Herald, February 23, 2014.