The art of the family road trip
For many families holiday periods inevitably mean a family road trip of some sort.
However it doesn't have to be 10 hours of boredom as you schlep up the Pacific Highway to Brisbane. It can be invaluable, uninterrupted time for you and your family to talk. You're a captive audience for each other, after all. Long journeys are also a perfect environment to impose your own music loves onto your children, so they know the words to every Johnny Cash song thanks to road trips with Daddy.
We were alarmed earlier this year to read a Fairfax Media article about the number of parents who were using medication to sedate their kids during long trips. In a driving survey commissioned by insurer GIO in 2015 up to 18 per cent of NSW drivers admitted to tranquillising their children with drugs that sedate, such as the antihistamine Phenergen. PLEASE DON'T EVEN THINK ABOUT IT. It's dangerous and just so wrong on so many levels. Used incorrectly it can cause respiratory depression, which in its worst case can be fatal.
Instead, take a bit of time to plan and you can turn a long, possibly boring drive, into a fun family adventure. Here are Travel Without Tears' top 10 tips.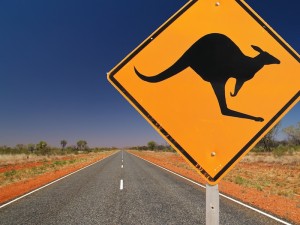 1. Food, glorious food
The great downside of Aussie road trips is that the food you get along the way is spectacularly awful; on the whole greasy fast food designed for truckies with a death wish. Make and take as much as you can yourself.
Fill the esky with: fruit, cut into bite sized pieces, or whole apples and bananas;  yoghurts in tubes (less mess, no spoons needed) frozen (so they keep  other things cold); rice or corn cakes; peeled hard boiled eggs, cut in half, sprinkled with salt and pepper; sandwiches.
2. Load up on audio books
They are not daggy, they're fun, especially when read by the likes of Stephen Fry, Kate Winslet, Judi Dench and Hugh Laurie. Roald Dahl's BFG is our family favourite and covers almost half the Hume Highway between Sydney and Melbourne.
3. Embrace old-fashioned car games
Teach your children the games you played as a kid: I Spy, Spotto, the number plate game (finding A to Z on passing cars' rego plates). We love Car Cricket. You can make up your own rules, but essentially each person in the car has an "innings". If you pass a truck you get four runs, a car towing a caravan is a six, and if you pass a red car you're out.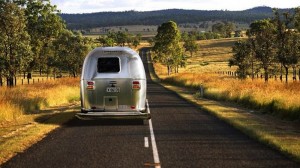 4. Stay cool
Freeze a half-filled bottle the night before you leave then top up with cold water before you go – you'll have nice iced water for much of the trip.
5. Activity trays
Some kids are quite comfortable reading or drawing in the car. Place a choice of books in places they can reach them easily, and perhaps take a small tray with Lego, small toys, or colouring books and pencils, which they can rest on their knees. Hours of family fun!
6. Pack some lollipops
Kids can't grizzle and suck at the same time.
7. Take plenty of rubbish bags
You'd be surprised how much garbage you generate – and you really don't want to find a banana skin under the seat a week later. A spare ice-cream container can be handy especially if someone suffers from motion sickness.
8. Keep the iPad as a last resort
Don't start the journey with kids on screens.  Hold the iPads/DVD players back until the kids really are at their wits ends. And don't forget the headphones.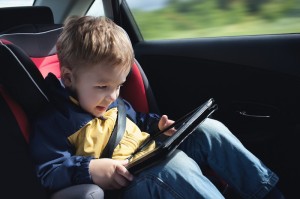 9. Clean up your act
You can never have enough tissues or baby wipes. A non-water hand sanitiser is also a good idea for the toilets you encounter along the way (or the emergency nature wee) where there might not be any running water and/or soap.
10. If all else fails, resort to bribery
Put a bag of jelly snakes on the dashboard and every time a child is out of line throw a snake out the window. Whether you give them one at the end is up to you.